About Dr. Rita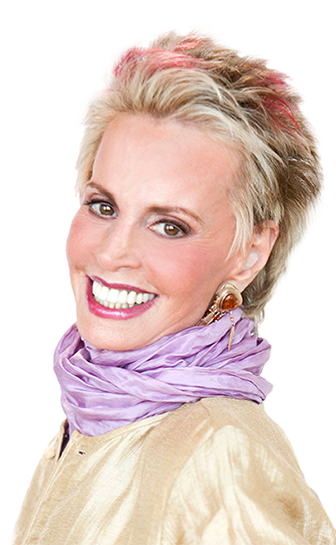 Dr. Rita is a global thought leader, business strategist, social activist and philanthropist. She is CEO and founder of Women on the Leading Edge Inc., and the Women's Global Think Tank.
For over 25 years she has worked with Fortune 500 companies and women entrepreneurs around the globe. Dr. Rita has also been leading yearlong empowerment seminars for women for over 18 years. She is now spearheading a movement to transform our world through the empowerment of women as leaders and working with women of influence to collaboratively co-create a radically different future for our world.
Dr. Rita's partial client list includes
Exxon
General Electric
Motorola
The Gap
Citibank
Smith Barney
Google
Williams-Sonoma
Chicago Tribune
Dr. Rita Lustgarten holds master's degrees in Clinical Psychology, and Human and Organizational Development and a doctorate in Human Development & Organizational Systems with a specialization in Women's Global Leadership.
She was awarded a fellowship for her outstanding work in the field of women and leadership and her concomitant contribution to a national initiative called Creative, Longevity, and Wisdom, a project of the Institute for Social Innovation.
Dr. Rita is:
A Founding Member of the Institute of Evolutionary Leadership
A Founding member of the Institute of Psychological Medicine
A Founding faculty member for Compassion Happens, Inc.,
A Faculty member of The Living University
A founding member of Wisdom's Goldenrod, a Center for Philosophic Studies
A member of the Association for Transformational Leaders
Author of an upcoming book on Transformation & Actualizing Human Potential.
As a seasoned international consultant, speaker, transformational leadership expert, business growth strategist, facilitator and advisor to top leaders, Dr. Rita has been working in the field of personal and professional development and transformation, playing a central role in the human potential movement. To date, she has been engaged in over 40,000 hours of transforming the consciousness of individuals, businesses and organizations.
Dr. Rita speaks and moderates at conferences worldwide including:
Past engagements
2006, Santa Barbara- Fielding- Women's Wisdom in Leadership Conference
2006- 2015, Presentations on Women's Empowerment, Leadership and Entrepreneurship. Business Acceleration – San Francisco, London, Los Angeles, NYC
2010 Dubai, Women's International Leadership Conference
2011 Abu Dhabi, 2nd Annual Human Capital Management Forum- Fleming Gulf
2013, Seattle, Women of Wisdom Conference
2014, Las Vegas, Women in Leadership
2015, Silicon Valley, Franchise for Humanity
2015, India Women's Global Economic Forum
2016, Santa Barbara Women's Economic Forum
2016, Santa Barbara, Goddess Arises
2017, March- India- High level leadership Training for CEOs and Entrepreneurs
Upcoming engagements
2017 June, Nice France- 3-day Women of Influence Summit
2017 July East Africa- High Level Leadership Training
2017 September NYC: 3 Day Women of Influence Global Summit
2017 September Oslo, Norway –Women's Leadership Conference
2017 Dubai- Women's Global Conference
2017- October, Berlin 3 day Women of Influence Global Summit